Dear Bill...
What I'm Trying To Do
Chances are, you don't know me. And chances are even better that you don't know my Dad. However, I'm going to ask for your help anyway. In a nutshell, my Dad is dying. He has advanced Vascular Dementia which has progressed to the point of interfering with basic life functions. He previously asked to not have steps taken to prolong his life artificially, so he doesn't have much time left. What I need from you is to show him that somebody cares. Right now he's sitting in a nursing home, getting ready to die. And I want him to feel the basic love of humanity that I believe is still out there. I want him to have some bit of solace in his last days. I'm not asking for money for me or him, or anything like that. What you do doesn't even have to cost you money if you don't want it to.
About My Dad
My Dad was born in 1928 (Erie, PA) the youngest of 3 children. At the age of 17 he graduated from High School and enlisted in the US Navy (His parents signed for him). He served in WWII in SE Asia where he almost died of dysentery (I don't know the specifics of his station, etc). The war ended after a year or two and he came home and went to college (Syracuse) with the help of his Navy enlistment. He excelled and went on to a degree in Electrical Engineering (With Honors). He ended up working as a defense avionics engineer where he developed several key systems over the years. He never wanted any glory or promotion for himself. He was just happy to provide for his family. Somewhere in there he received a Masters degreen in Electrical Engineering as well.
He had 2 children at first, and then MANY years later he had an accid... Er, surprise - Me. He eventually retired after working for decades with the same company and went to live out his retirement years.
Sorry for the brevity, but I'm doing it for 2 reasons. 1) I know you probably don't care about all the boring details of his life. 2) I don't know most of the boring details of his life. Since I came so late in his life, I wasn't there for the vast majority of it.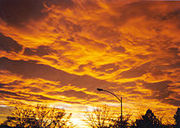 UPDATES
October 4, 2006
Sorry for the lack of updates, here's the current situation. I went to see him this weekend and was really taken by surprise at his condition. However, he was happy to see me. The hardest part was that he was trying to tell me things, but he couldn't speak anymore (At least not that anybody could understand). So he realized the futility of everything and took my hand with his own, now shaking hands, and kissed it. Then we just sat there hand in hand. I told him everything that I felt he needed to hear. I saw him for two days and then had to return home.
I received word after I returned home that soon after I left, he stopped accepting food and/or drink of any kind. Almost as if he was waiting for me to come. And thinking that somebody intentionally prolonged his suffering just to wait for me is worth more than any words could have provided. His condition has deteriorated to the point where this morning he is bed-bound and is on his way out. He is unresponsive and the death rattle has set in. It shouldn't be long.
On a positive note, I'd like to thank everybody who sent something in and/or spread the word. I was really surprised and touched by people. Flowers, plants, even a hand-made card which even brought ME to tears (And I never cry per Robert Smith's orders. Thanks, Jason). He hasn't been able to see much of it that has come in, but it has been extremely helpful for my Mother as well, to see the generosity and love that people still have.
As soon as he passes, I will post a notice. He will then be sent direct to cremation, and I will transport his cremains to Arlington National Cemetery.
Thanks again to everybody. You'll never know how much it all meant.
September 27, 2006
Some questions have come in from people so I wanted to answer them here:
Q: Can he eat regular food?

A: No. Unfortunately he cannot.

Q: The shipper is requesting a phone number at this location.

A: 505.298.2176 - Please only use it for shipping. PLEASE DO NOT BOTHER CALLING. THEY WILL NOT BE ABLE TO ANSWER ANY QUESTIONS ABOUT THIS!!! The last thing I want to do is irritate the workers there anymore than necessary (This is probably going to annoy them enough as it is).

Q: Is there any limit to what I can send? Flowers? Plants?

A: No. I mean, within reason anyway. Please only send LEGAL plants. Contact me for the address to send the ILLEGAL plants to. (Kidding) Ahem.

Q: Is the nursing home considered a business or a residence as far as delivery companies are concerned?

A: It is considered a residential address.
If you have any other questions, let me know and I'll put the answers up here. Thanks to everybody who is already taking part in this (Big thanks to Chris for helping me iron out all the logistics). If you don't want to take part, I completely understand. Please just make sure that you do something for somebody close to you instead. You never know how long you're going to have that opportunity.
What I'm Asking You To Do
Send him something. NOT money, or anything of any monetary value. I REPEAT - DO NOT SEND MONEY!!! Send him something that might brighten up his final days. Here are some ideas:
Flowers (I'm not talking long stemmed roses here)
Cards (Heck, make it yourself!)
Stuffed Animals
Balloons
Letters (Let your kids help!)
You get the idea
Basically, I want to fill up his room with random love from all over the country. Hell, I want to fill up his entire nursing home with love from all over the country. Make it so they can't fit it all in one place. Make it so they have to give it to other nursing homes and brighten other peoples' days.
Send it to:
Dear Bill
C/O Angela Jones
Casa Del Norte
3200 Candlelight
Albuquerque, NM 87111
Please don't bother sending anything nasty, everything will be screened. And like I said, PLEASE DO NOT SEND MONEY!!! Don't even send anything that could have any intrinsic and/or monetary value.
The Final Word
I will post pictures here of what (If anything) comes pouring in.
I will NOT send emails to people other than a few friends about this. If you see an email that is allegedly from me and/or this site - IT IS NOT FROM ME AND/OR THIS SITE!
While I can be reached at dearbill06@yahoo.com - Please be aware that with the volume of emails I receive, it is unlikely that I will be able to send a response. However, I do read each one.
THANK YOU in advance for your support.